A Hundred Birds New Release !!! WATCH OUT NOW feat. Sweep & Takeuchi Kaztake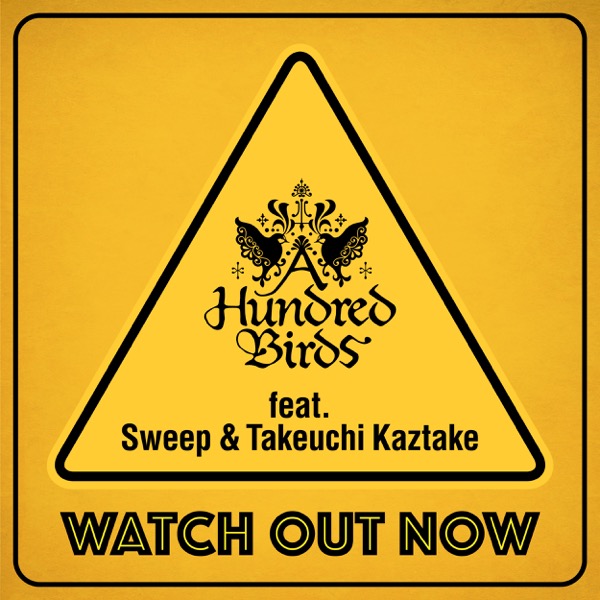 WATCH OUT NOW feat. Sweep & Takeuchi Kaztake / A Hundred Birds
A Hundred Birdsが2020年最後に放つ、久々の新曲は盟友のシンガー・ ソングライターであるSweepとAHB主力メンバーであるキーボーディス ト・サウンドプロデューサーTakeuchi Kaztakeの手による、強烈な メッセージソング。力強く切れ味抜群のSweepの歌声を乗せた90sテイ ストたっぷりなダンスチューン、WATCH OUT NOW!
A long awaited brand new single of A Hundred Birds coming, Watch Out Now featuring Sweep and Kaztake Takeuchi.It has a powerful and sharp vocals Sweep created. A keyboardist, Kaztake Takeuchi produced it with 90s dance music taste. Its critical lyrics for the current situation is also one of the attractive points of it. Don't miss it.






2020.12.23 Digital Release!!
   ⬇︎⬇︎⬇︎⬇︎⬇︎⬇︎⬇︎⬇︎
*******************************
APPLE MUSIC / Spotify / LINE MUSIC / AWA / Youtube Music / amazon music / dヒッツ / itunes Store / レコチョク / mora
https://ssm.lnk.to/WATCHOUTNOW?fbclid=IwAR01eYXxAFGXiTWTtzfzGX1NWha1xb6jz0jTXoRx0w1o3Sd05kLC3581_Dg
*******************************







・・・・・・・・・・・・・・・・・・・・・・・・・・・・・・・・・・・・・・
WATCH OUT NOW


words: Sweep
music: Takeuchi Kaztake & Sweep


I've got u 味気ない世界はどうだい? No life I've got u 止まったままの風景を動かすのは Key of life
誰もがもがいて進むべき道を見失ってしまう時でさえ
どこか遠くで余裕の笑み浮かべ続けてる人達へ
I won't be falling for that samething again Cause I know u
Hey. And we won't be backing o anymore
U watch them out right now got it?
It's true watch them out before It's too late U watch them out right now got it?
It's true watch them out It's not too late
if u notice it the world is yours x2
If I notice it the world is mine x2
I've got u 光を失った目もうこれ以上増やさないために
今何を見つめてこの先どうしていくのかって事 それが全て
I won't be falling for that samething again Cause I know u
Hey. And we won't be backing o anymore
U watch them out right now got it?
It's true watch them out before It's too late U watch them out right now got it?
It's true watch them out It's not too late
if u notice it the world is yours x2
If I notice it the world is mine x2
誰か任せじゃいつまでも変わらず
そんな未来はno more て分からす
あんな想いをするのはもう二度とゴメンだって 未だジワジワ続く茶番劇 顔がシワシワになるまで待つより It's time to change now
U watch them out right now got it?
It's true watch them out before It's too late U watch them out right now got it?
It's true watch them out It's not too late
if u notice it the world is yours x2
If I notice it the world is mine x2
・・・・・・・・・・・・・・・・・・・・・・・・・・・・・・・・・・・・・・
produce: Takeuchi Kaztake & Sweep
beats, keyboards: Takeuchi Kaztake
all vocals, vocal arrangements: Sweep
guitar: Nappo
mix, scratch: HIRORON
cover design: Shinobu Masuda (BURNER GRAPHICS)
executive produce: YOKU (A Hundred Birds)
・・・・・・・・・・・・・・・・・・・・・・・・・・・・・・・・・・・・・・
News Category : A Hundred Birds DJ YOKU