2022.01.02(Sun) New Year Party at Club Joule, Osaka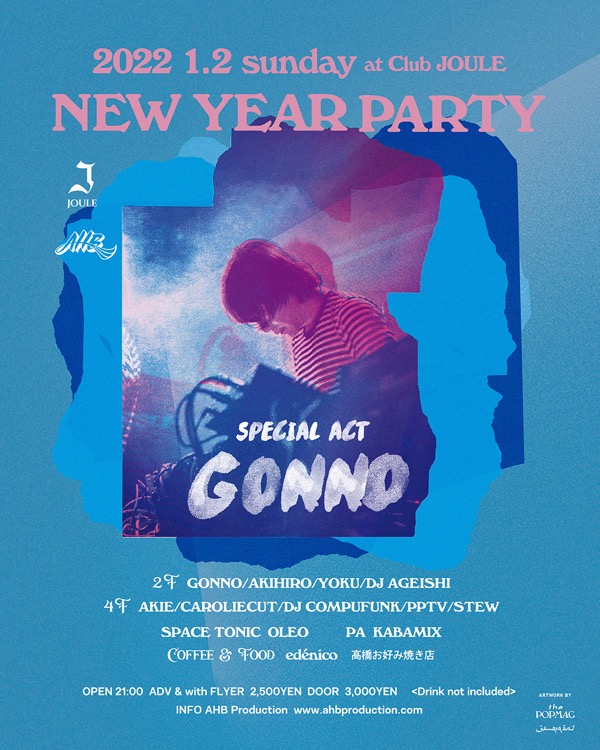 2F :GONNO、AKIHIRO、YOKU、DJ AGEISHI
4F:Akie、CAROLIECUT、DJ Compufunk、PPTV、Stew
Space tonic:OLEO
PA:Kabamix
open:21:00
Door 3000yen (ドリンク別)
ADV & W/Flyer 2500yen (ドリンク別) Advance ticket : Resident Adviser
coffee&food : edénico、高橋お好み焼き店
Info: Club Joule http://club-joule.com
大阪市中央区西心斎橋2-11-7 南炭屋町ビル2F
TEL 06-6214-1223
AHB Production http://ahbproduction.com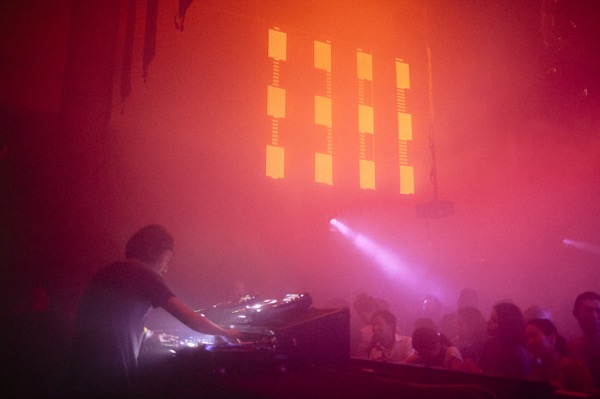 GONNO (WC | International Feel | Ostgut Ton)
ジャパニーズ・ハウス/テクノを代表するDJ/プロデューサーとして国内外で活躍中。
これまでにイビザInternational Feel、NYのBeats In Space、英Perc Trax、ベルリンのOstgut Tonなどから作品を発表、Laurent Garnier、James Holden、Francois Kevorkianなど国内外のDJからサポートを受ける。またJeff Mills "Where Light Ends"に代表されるリミックスワークも定評高い。
2015年にリリースされた2ndアルバム"Remember The Life Is Beautiful"はPitchforkやResident Advisor等の海外メディアからも高く評価され、日本のMusic Magazine紙に年間ベストディスクにもランクインされた。
2018年には元"森は生きている"のドラマー増村和彦とのコラボレーションアルバム"In Circles"を発表、エレクトロニクスと生ドラムの2010年代的解釈での斬新な融合を試み、ライブアクトとしてもインプロヴィゼーションを基調とした活動をしている。
DJとしても長年のキャリアで培った個性的でアシッディーかつメロディック、幅広くストーリー性溢れるプレイでベルリンBerghain12周年やクロアチアDekmantel Selectors等数多くの国外イベントに出演、近年ではヨーロッパ以外にもアメリカ/オセアニア/アジア/インド等へのツアーも勢力的に行い、その傍らオランダDekmantelやクロアチアDimensions、NYのBeats In Space RadioのPodcastシリーズにDJミックスも不定期的に提供している。
最近作は2019年にOstgut TonよりリリースされたNick Hoppnerとの共作EP "Lost"。
Gonno is without a doubt an integral part of the current wave of house and techno in Japan. His releases have not only appeared on reputable local labels but have also made their way humbly over to the continent.
Gonno always manages to bring an acidy and melodic flavor to his DJ and live sets while still staying true to his house and techno roots. Without fail he draws ravers in with eclectic sounds and the lost art of storytelling behind the decks/machines.
As a result of his infectious sets he's been playing as a DJ around the world such as UK, EU, US, China, South East Asia, India and Australia since now.
Gonno's release "Acdise #2" on International Feel Recordings in 2011 was his break point to get wider audience, even before its release the EP had frequent play from so many DJs such as Laurent Garnier, James Holden, Francois Kevorkian, Tim Sweeney and Todd Terje, and still continues to be a phenomenal long seller. It's no exaggeration to say "Acdise #2" is the year's best Japanese techno tune.
In 2015 Gonno released a full-length solo album for the first time in ten years entitled "Remember The Life Is Beautiful" from Endless Flight which gained him wider recognition and appraise from international audience. His remix of Jeff Mills' "Light Of Electric Energy" was included in Mills' album "Where Light Ends," and other works include his solo EP "The Noughties" on Tim Sweeney's Beats In Space Records, and a collaboration EP with Berlin's Panorama Bar resident Nick Höppner "Fantastic Planet" on Ostgut Ton.
While he'd been touring many countries, he did some remix for the label such as Cocktail D'Amore Music (Berlin), Public Works (San Francisco), Jin (Taipei) and Butter Sessions (Melbourne) etc. Also collaborating with a Japanese drummer Kazuhiko Masumura as "Gonno x Masumura", and putted their album "In Circles" in 2018 on P-vine records Japan. They focuses the fresh impacts between the electronics and the african-infruenced drums as UK Jazz iconic DJ Giles Peterson immediately introduced their track on his radio program at Worldwide FM.
Before 2020 that Covid-19 era started, he had been used to tour arounds energetically like he appeared on Croatia's Dekmantel Selectors, playing at Berghain in Berlin several times in a year, also the annual mini-touring in Canada – US. Meanwhile, the collaboration with Nick Höppner returned and their latest EP "Lost" on Ostgut Ton came out late in 2019.
At the moment Gonno concentrates composing and recording more and his upcoming works will be unveiled soon.
Akie
大阪の中古レコード店"raregroove"での約2年の勤務を経て、2018年大学卒業を機に同じく大阪にある"newtone records"に入店し、現在に至るまでレコードバイヤーを務めている。関西を拠点にDJ活動を開始。現在は東京に拠点を移し活動。バイヤー、DJ共にオールジャンルを扱っている。
PPTV
石川県出身/ DJ / Composer
独自の観点で様々なコンテンツを昇華・融合し、その場の空間に合わせた表現を行う。一般的なDJプレイだけではなく、植物.菌などの信号をmidi変換するデバイスを使い、それをシンセサイザーで可聴化させた音とのDJセッションも行っている。
他にも舞台芸術の視点の拡張を提唱してきたANTIBODIESCollectiveの参加や、MC LAS×鎮座DOPENESSのプロデュースなども行っている。これまで数々のMIXCDや、eatrip SOIL、kappa堂などの共同作品もリリースしており、直近では日野浩志郎(YPY)のレーベルbbFから「Paradise Siberia」をリリースした。
Stew (TUFF DISCO)
DJ COMPUFUNK
CAROLIECUT
AKIHIRO (NIAGARA)
Schedule Category : AHB PRODUCTION DJ Ageishi DJ YOKU